Salesforce.com: 15 Years of Sales Technology in the Cloud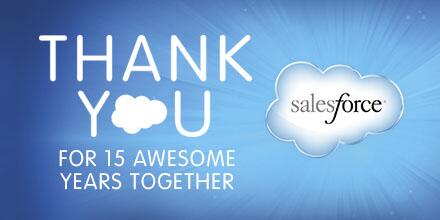 Happy Birthday Salesforce.com! Salesforce is officially 15 years old, marking 15 years in cloud-based sales technology. A look at how Salesforce changed sales technology forever.
By changing the way we think about cloud computing, Salesforce advanced the industry across the board. Without Salesforce there may have not been opportunities for other platforms such as marketing automation, power dialers or sales candidate sourcing tools such as our own Ideal Candidate.
Here are 2 ways Salesforce helped to change sales technology forever:
Disrupted the buying process for sales technology. Traditionally, technology was purchased through the IT department. This is because it was difficult to install and manage a software installation. When Salesforce launched they could sell directly to the individual that needed it because there was no complex installation process. Now many software platforms sell directly to the end user. While it may seem natural to the new SaaS companies, it's important to remember this was far from the norm when Salesforce launched.
Created a marketplace for enterprise applications. Today, everyone knows about the Apple app store and the Google Play store, but long before Apple made the word "app" a common term, Salesforce launched their App Exchange. To have an app store for business applications empowers users to shop for software like they are shopping for music on iTunes. Again, this may seem normal now but 15 years ago this was unheard of. Was the App Exchange the original "app store"?
Although not the first company to offer hosted sales tools, Salesforce set themselves apart with the sheer impact they made pushing cloud computing forward for everyone.
What will the world's most innovative company do next? We'll be waiting to see. Cheers to the next 15!
Shaun Ricci is a Canadian entrepreneur and the Co-Founder of Ideal. Shaun served as Co-Founder and COO of Field ID until it was acquired in December 2012. Shaun's accomplishments include spots on the Profit Hot 50 and Deloitte Fast 50 Companies-to-Watch lists as well as the 2012 Ontario Ernst & Young Entrepreneur of the Year Award. Shaun is also an active writer, documenting his wins and losses while building his startup sales team.
Latest posts by Shaun Ricci (see all)